Artists ~ Annette Paull ~ Providence
Artist's Name:
Annette Paull
Shop Name:
WaterSpirits Jewelry
Website:
In the works
Twitter:
http://twitter.com/WaterSpiritsJ
Facebook:
http://www.facebook.com/waterspiritsjewelry
Pinterest:
http://www.pinterest.com/waterspiritsj
Other:
http://etsy.com/shop/waterspiritsjewelry
1. Tell us about your work
WaterSpirits jewelry is meant to give the wearer a connection with the ocean and it's powerful, mysterious beauty. Each piece is unique and a distinct WaterSpirits design. Adorn and know it is a reflection of yourself and what you are grateful for. When we are grateful, we are rewarded with more to be grateful for.
2. How did you come to be a professional artist/crafter/designer?
I have always loved being creative. I started sewing when I was in 4-H in grade school and in my adult years, I took classes to learn watercolor painting and metalsmithing/jewelry making. The whole process of creating something with my hands is very rewarding and fun and the finished product is something to enjoy, not only for myself but others as well. It wasn't until 2010 that I started getting serious about making jewelry professionally. It all seemed to just fall into place and transform from being a hobby to a profession. I had gone through some trying times with the pregnancy of my twins in 2004 and experienced the loss of one of my daughters and life changing news about my daughter who survived. I've loved the ocean ever since moving to Rhode Island when I was a teenager, but especially found comfort and peace from it during this difficult time in my life. I enjoy collecting treasures of sea glass, shells and stones when walking on the beach. After making jewelry for myself (from those treasures), I would often get compliments from family, friends and even strangers. Those compliments turned into requests to purchase my creations. A good friend then offered to host a party which turned out to be a great success and the business just blossomed from there.
3. Where do you draw your inspiration?
I draw my inspiration from my love of the ocean…it's beautiful colors and reflections, the smell of the salt air, and the feeling of peace and gratitude when near it. For me it's very therapeutic to sit or walk on the beach and I have that same feeling when creating my jewelry, which is a reflection of the sea and those wonderful feelings it evokes. My mother, who is an award winning watercolor artist, is also a big inspiration to me and I guess that's where I get my creativity from. Every step of the way, she's been supportive and offered words of encouragement and advice.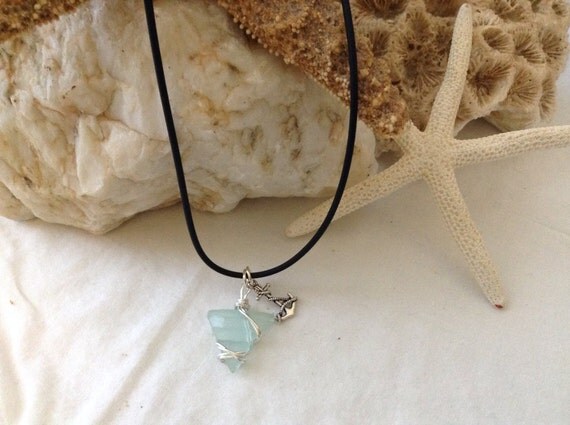 4. What's you favorite item to create?
I love wire wrapping sea glass and making pendants (in different shapes such as hearts, angels and dragonflies) and rings. I use one continuous piece of wire and let the qualities of the sea glass help define the shape I create. Each creation is one of a kind and unique. I also love to do special orders, whether it's out of a personal ocean treasure that someone wants to be able to adorn or display or a creation for a special occasion, such as wedding or celebration.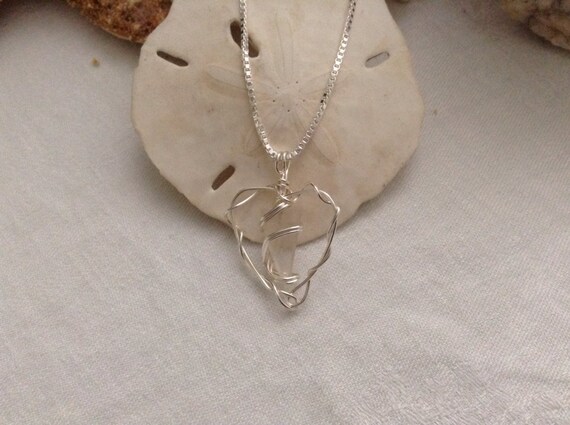 5. What's your best seller?
It's really dependent on the season. I sell a lot of sea glass angels during the holiday season because they make beautiful ornaments. In the summer, I sell more jewelry and wine charms. The wine charms make great hostess gifts for those fun summer outings on boats or at a beach house. They are of course ocean themed and beautifully embellished not only with beads, but sea glass, shells and other "Rhode Island" or ocean themed charms. When many people see them they think they're actually jewelry.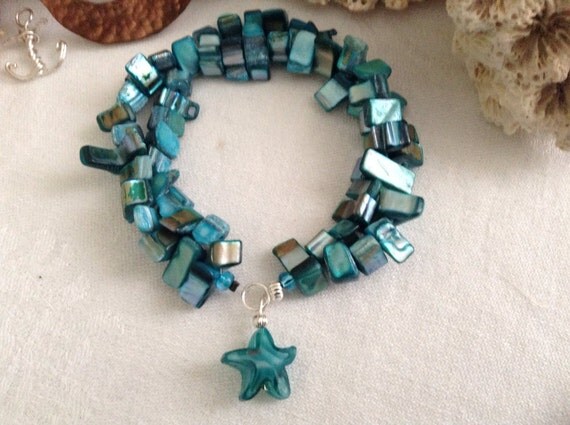 6. How long have you been in Rhode Island?
I've lived in East Greenwich, Rhode Island for almost 40 years and I started my business in 2010.
7. What do you love about Rhode Island?
I love the fact that you can be near the water, whether it's the bay or open ocean, within minutes of getting in your car. I love Rhode Island's natural beauty, history and diverse culture, which creates for many wonderful restaurants. It's a small state that has a lot of big things to offer, not only to residents but visitors as well. Everything is so convenient too! Depending on which direction you travel, you can be at the ocean, in the country, on a real island via boat or bridge, or on a train or plane all within a half an hour! And I love having my creations represent the most beautiful that Rhode Island has to offer…it's beaches and ocean.
8. In addition
Not all of WaterSpirits Jewelry's creations are made using sea glass or shells, but all creations remind us in one way or another of the ocean and it's beauty, power & mystery. In addition to Etsy & Facebook, I currently have a large selection of my jewelry for sale at David-Max Boutique on Main St. in East Greenwich. For the largest display of creations, please visit my facebook page and anything you see there is available for purchase through private messaging, except for the mermaid pin who is seen in many of my pictures. She is my logo which I am trying to make into charms to put on my jewelry.