Artists ~ Kathie Tinkham ~ Pawtucket
Artist name:
Kathie Tinkham
Shop name:
wishwithme
Website:
wishwithme.etsy
Facebook:
https://www.facebook.com/pages/wishwithmeetsycom/87888818462
1. Tell us about your work:
I have a shop on the Etsy website named wishwithme. I design and create miniature animals, dolls, bags and more. My specialty is the hand stitching of tiny whimsical felt creations. I especially love working with felt as my medium because it gives me the ability to control the placement of the tiny stitches. Because of Etsy and the amazing world wide web, I have customers in 19 different countries. I give my customers the opportunity to customize and they even ask for things I don't have in my shop. They ask me to make animas that are hard to find or they're just a fan of my work and they want me to create something new and unique for them. I do my research, sketches, patterns and their wish comes true. That's where the name wishwithme comes from. I work with my customers to give them just what they want. Sometimes that may be just to make something a different color.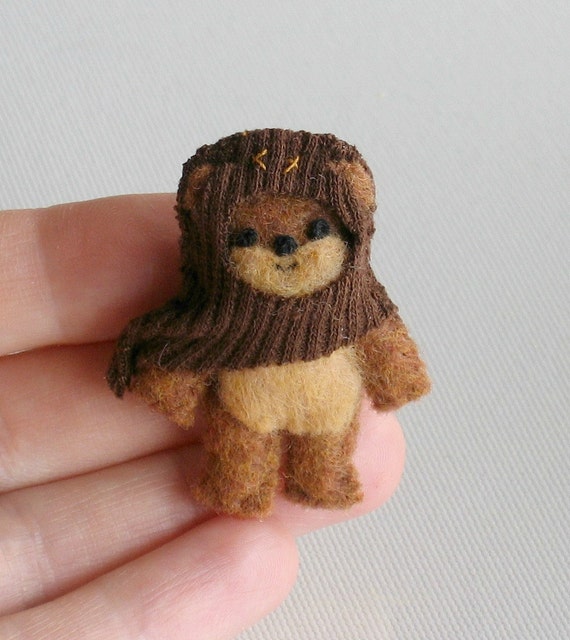 2. How did you come to be a professional artist, crafter, designer?
I have very early memories of making little dolls and animals from fabric scraps well before the age of 10. I had the imagination that sparked a creativity that never left me. As I grew older my love for sewing and other art skills have been fine tuned. This gives me the ability to design and create the high quality items I make for all ages. It seems like I've waited a lifetime for this opportunity to make a business out of something I absolutely love to do. Etsy had given me this opportunity and I'm very greatful to have found it.
3. Where do you draw your inspiration?
My inspiration is the memories of my own childhood. Like what it felt like to be given a tiny stuffed kitten. I would then make a little bed for it and feed it make believe food. This why I love to include play sets with my animals and dolls. Theirs nothing like the imagination of a child. Of course my shop is in no way just for children. My little animals, dolls, pet rocks and play sets have been given to all ages from grandmothers to toddlers and everyone in between.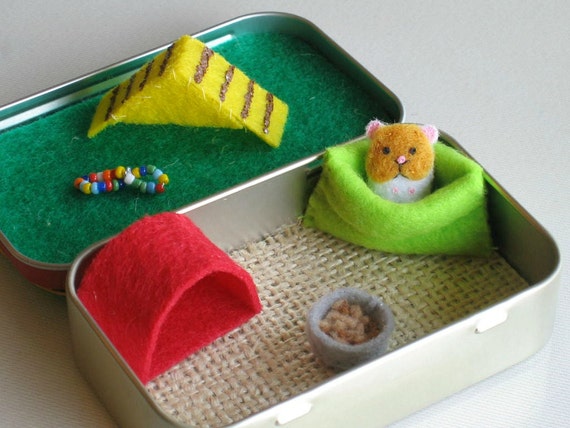 4. What's your favorite item to create?
My favorite item to create is my felt sloth tree play set. The tree stands with the help of pipe cleaners and fiberfill in the branches. It's durable enough to let my famous little sloth hang off of one of the branches. Included is a felt bowl of food with a bit of lettuce, grapes and slices of sweet potato. Of course I also include a little fleece snuggle bag because it wouldn't be right to keep the little guy hanging there all night. It needs a cozy place to sleep too.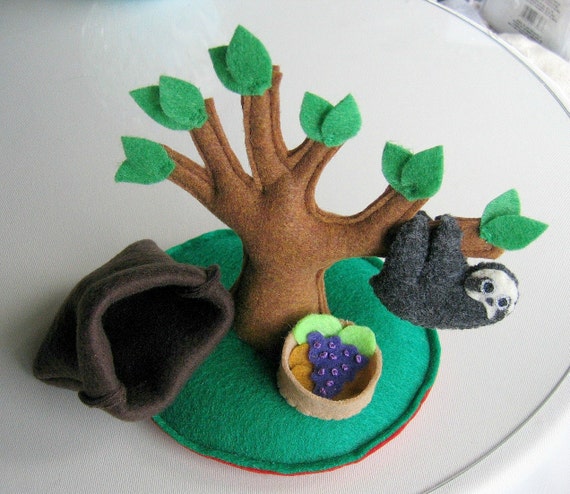 5. What's your best seller?
My best seller is my felt sloth. It also has pipe cleaners on the inside to help it hang onto things. What makes it different from any other stuffed miniature sloth is the hand painted face which gives it a realistic touch. The picture of it on my website shows it hanging onto my little finger. This makes for a very sweet photo which has been very appealing to so many around the world.
6. How long have you been in Rhode Island?
I have lived in Rhode Island all my life. My childhood home is actually right across the lawn from where I live now.
7. What do you heart about Rhode Island?
I absolutely love Rhode Island because you're never very far from the bay or the ocean. There's so much to do and its all within your reach.