Event ~ The Sketchbook Project ~ June 13 ~ AS220 ~ Providence
The Sketchbook Project
AS220
95 Empire St.
Providence, Rhode Island
June 13, 4:00 - 8:00 pm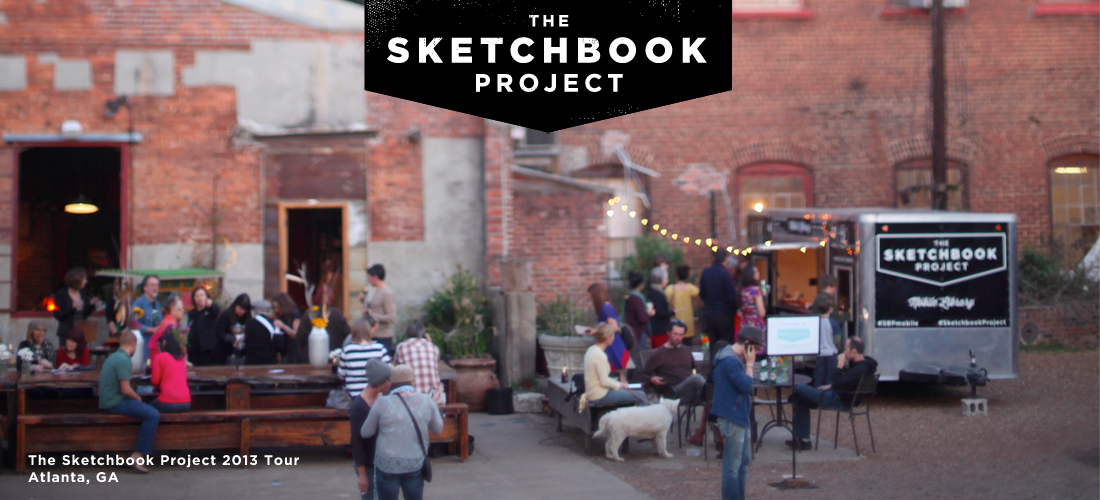 I got an email today about the upcoming Sketchbook Project summer tour, that's coming to Providence in June. I'd never heard of it, but after reading about it, it seemed very interesting. Artists from all over the world have sent sketchbooks to the project and museum in Brooklyn, NY. The summer tour takes some of them on the road around the U.S. I love traveling exhibits!
from their press release:
"
The Sketchbook Project
is a global, crowd-sourced art project and traveling exhibition. Since 2006, the Sketchbook Project has encouraged participants from all walks of life to fill the pages of a blank sketchbook. The results are cataloged in the Brooklyn Art Library and shared with the public in venues around the world. The collection currently includes more than 26,000 sketchbooks representing nearly 8,000 cities worldwide.
This summer, Steven Peterman, co-founder of the Sketchbook Project, and Sara Peterman, director of the Brooklyn Art Library, are hitting the road to share the stories behind the Sketchbook Project with communities across North America. The husband-and-wife duo will set out for adventure in the Mobile Library — their custom-built bookmobile — along with a selection of 4,500 sketchbooks from the permanent collection. Covering more than 10,000 miles and 32 cities in just four months, the Summer Tour is a unique opportunity to experience the Sketchbook Project firsthand and swap stories with the project's organizers."
...
"The goal is to continue inspiring people from diverse backgrounds to make art. "Given all the ways that technology has integrated with our lives, it feels meaningful to meet new people over physical
books," says Steven. "This project is about people leaving their mark in the world."
About the Sketchbook Project
The Sketchbook Project is a global, crowd-sourced art project and interactive, traveling exhibition of handmade books. Our community is made up of over 75,000 people, and our permanent collection at Brooklyn Art Library holds over 26,000 sketchbooks from 135 countries around the globe.
We invite participants from all walks of life to fill the pages of a blank sketchbook and send it back for inclusion in our ever-growing library of inspiration.
Anyone, from anywhere in the world, can participate in the project.
www.sketchbookproject.com
ContactSteven Peterman, Co-founder/Director of Operations
steven@arthousecoop.com
"